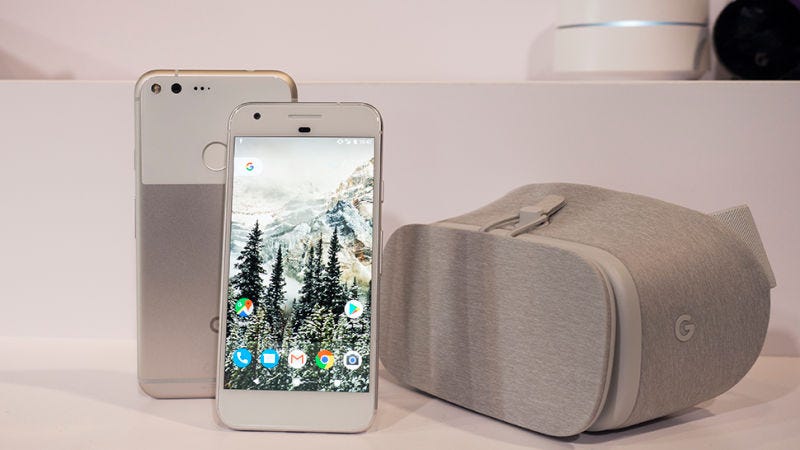 Google needs to be in the hardware business. It's infiltrated nearly all aspects of our lives to an alarming degree. It controls our emails through Gmail, knows where we go through Maps, has a list of every person we communicate with via Android, and understands our every interest thanks to its search engine and Chrome. Yet it's gonna hit a wall soon. A company as large as Google can't infiltrate every point of the human experience with software and services alone. It needs to be producing the phones we text on and the computers we browse on. Last April it was reported that Google was aggressively hiring a hardware team in preparation for a big push, and sure enough, by the end of the year, the company had released a whole line of gadgets across categories ranging from smart phones to smart speakers.
One year later, there have been some setbacks. On Thursday, David Foster, whom Google poached from Amazon to guide the development and release of the future Pixel phones, departed from the company. Foster's initial hiring appeared to be a big win for Google last year. He ran Lab126 at Amazon, the lab responsible for the Kindle, Fire, and Echo. Working under fellow poachee, Rick Osterloh (who was a big Motorola Mobility exec), Foster was going to take over the reins of the Pixel, a phone that was announced only a few days after his joining the team.
But now Foster's gone. "It wasn't a good fit, or it wasn't what he was expecting," analyst Jan Dawson of Jackson Research told Gizmodo. According to Dawson, a departure only six months into Foster's tenure likely had little to do with the hardware he was developing at Google. "There's no obvious reason why he'd want to abandon ship." As Dawson told Gizmodo, the hardware Google's released thus far has been "well reviewed."
With Google's I/O developer conference coming up next month, let's take a look back at that "well reviewed" Google hardware. Last year I/O was where Google announced both the Home and Daydream—two products that seemed like they could redefine their respective categories. And the products turned out well enough. But now that we've got a little distance for perspective, it's worth asking whether the year Google got serious about building its own hardware was actually good.
Google Pixel
In the controlled settings of the Google Pixel launch, Google's first in-house phone seemed to be some kind of genius. Not just because it came in a vibrant blue version, but because Google Assistant, the company's answer to Siri, seemed to be genuinely smart.
Then everyone got their hands on an actual Pixel and it was revealed to be a nice phone, but not the hype machine Google wanted and needed. (And Google Assistant was really, really stupid.)
Now, six months later, we've all seen the Samsung Galaxy S8, and the Pixel feels more outdated than ever. Sure, the S8 shipped without its digital assistant intact, but its hardware is the best you can get. There's no phone with better specs or looks.
The Pixel looks downright embarrassing beside it.
It looks more like a rip-off of an old iPhone than like the first phone from one of the largest and most influential tech companies in the world. The next version of the Pixel will need to be more forward thinking. Unfortunately, the few rumors we've heard about the product suggest it will be chasing Samsung's glory by rocking a curved display. Come on Google, you can be more innovative than that!
Google Wifi
Announced in October 2016, and available in December 2016, Google Wifi is a very nice little mesh router. For $300, you get three, so you can place them all over your home to blanket it in wi-fi (a single router retails for $129). It's attractive, and pretty easy to set up, and if you've ever seen Eero, then you're going to scratch you head, because they're a lot alike.