Keep Your Shares – Amazon Fourth Quarter – Seeking Alpha
A long-term growth investor enjoys the compound interest of the growth of the actual business. Because of compound interest effects, steadily growing businesses grow substantially in the long run.
Once enough of time is added, the growth of the companies transforms to the stock price. An important note is that this time has to be long enough. For example, a two-year time period is too short for any compound interest effects to take place.
However, growth can also slow down. In case this happens, a long-term investor most likely wants to sell his shares. Thus, the earnings reports of the held companies should be followed up. This article presents a view on how this should be done and what type of information should be ignored.
Future Developments of Companies
The future plans of companies are of course important and interesting, but difficult for private investors to analyze. For example, Amazon (NASDAQ:AMZN) is a massive company that operates in many different sectors. As a result, an investor can find a long list of positives or negative qualitative aspects. Let us see how Amazon Q4 2016 earnings report comments on positive developments:
"Our Prime team's customer obsession kept them busy in 2016," said Jeff Bezos, Amazon founder and CEO. "Prime members can now choose from over 50 million items with free two-day shipping – up 73% since 2015. Prime Video is now available in more than 200 countries and territories. Prime Now added 18 new cities, which means millions more members now get one and two-hour delivery. New benefits were also added to the list, like Prime Reading, Audible Channels for Prime, Twitch Prime and more. And customers noticed – tens of millions of new paid members joined the program in just this past year."
As investors we might get excited about these cool developments, but what is the investor value of Amazon offering 73 per cent more items to offer? What is the importance of this? Or what is the value of expanding to 200 countries and territories? Or how much is it worth that Prime Now is available for millions of new members?
A private investor can, of course, pick an individual theme like Prime Now and make calculations of the worth of this theme. However, as the company is huge, most aspects would be left out of this kind of analysis. As a result, the calculations could actually be misleading (as they highlight specific aspects, and miss the big picture).
Second, as actual results for the effects of new developments are unknown, analysis efforts in this direction are likely to be speculative in nature and educated guesses at best. A long-term growth investor should not ground a decision to sell the shares based on educated guesses.
Falling Short of Consensus Estimates is Not a Reason to Sell
A fast and easy way to get a grasp on an earnings report is to compare the result with analyst consensus estimates. So, for Amazon Q4 2016 you can say that revenues were $980 million short of what was expected. You can also see that earnings per share were $0.19 higher than expected.
In this case, the private investor can get confused. The revenues came out negative, but the earnings came out positive. Should you keep your holdings or sell them based on this information? The answer is no, you should not.
If you think about it, beating the analyst estimates is actually a measure of analyst accuracy, not achievement of company. Falling short of estimates in interesting information, but not a sell signal for the long-term growth investor.
Net Income is Not a Relevant Follow-Up Measure for the Long-Term Growth Investor
The net result is of course a relevant factor for investors. This figure shows the net result development for Amazon. In the long run net income has increased and there is a several-fold difference between 2007 and 2016. In other words, the earning power of Amazon has increased. Thus we conclude that Amazon should be more valuable for investors and that the market prize should have increased during this period (which it has).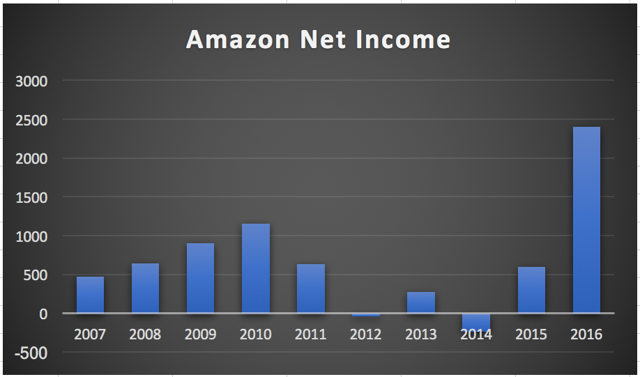 However, the net result is affected by several factors and is thus not a straight forward measure for company growth. As a result, a long-term growth investor who concentrates on net results, is likely to make the wrong decisions.
From the figure above it can be seen that net income felled dramatically from 2010 to 2011 and again from 2011 to 2012. However, selling after these time points would have been a mistake.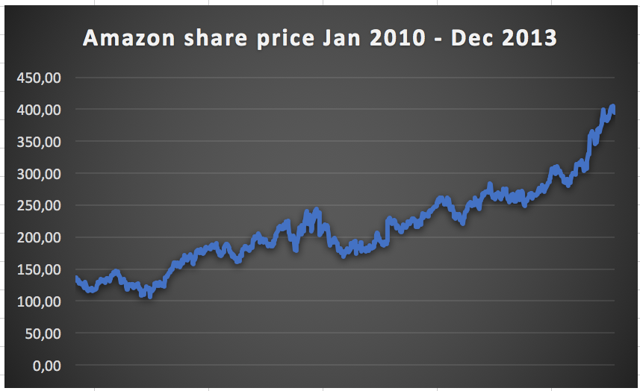 Shape of Revenue Growth is an Excellent Measure for Continuation of Growth
Revenue is a more direct way of measuring company growth. However, there are some details into how this should be done. All data contain variation, and choosing a short time interval results in making the wrong conclusion. Let us have a look at an example of this.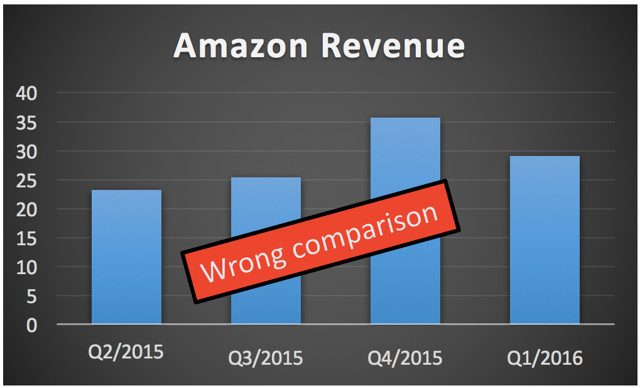 Here we compare Q2 with Q3, etc. This is not the right way to make the comparison, because it does not take the effect of seasonality to account. Also, the timeline is too short, which allows one-time events to mess up the data.
Instead, the comparison should be between same quarters and for a long enough time period. Like this.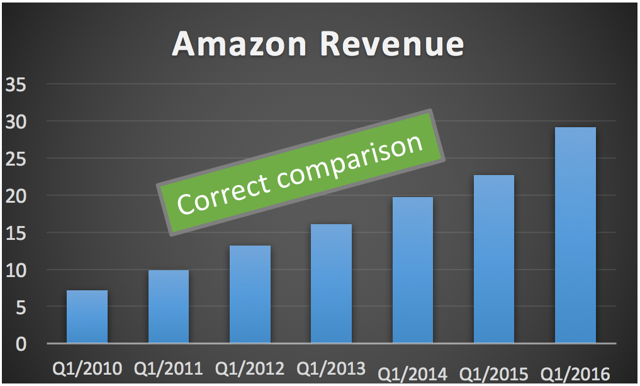 Comparing full year results is even better. This is easy to do for full year results. One year contains more data than a quarter. As a result, variation decreases even more.
In addition, we include an exponential trendline on top of the data. Counting the R squared value for a seven-year period shows that the growth is very consistent, once analyzed correctly.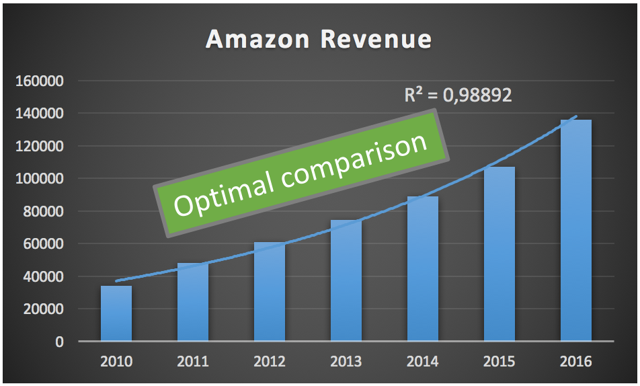 The chart above illustrates the power of Amazon's growth drivers. An important notion can be made, by analyzing older data. From older data it can be seen that the growth drivers of Amazon are resistant to the state of overall economy. Thus, Amazon is all but a cyclical company.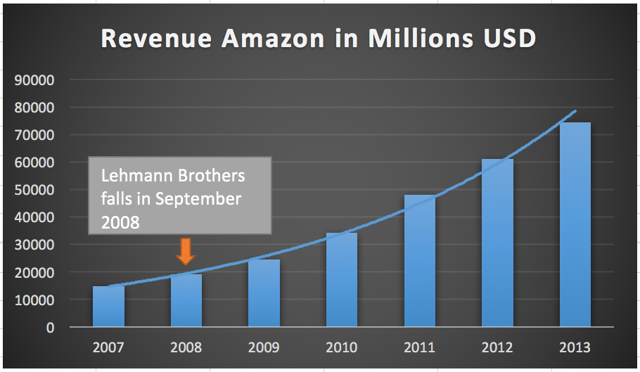 To conclude, for the long-term growth investor, long-term continuation of revenue growth is the most important measure to be followed. By analyzing this metric, it can be concluded that the Q4 2016 result of Amazon does not show any signals to justify selling the shares.
Disclosure: I am/we are long AMZN.
I wrote this article myself, and it expresses my own opinions. I am not receiving compensation for it (other than from Seeking Alpha). I have no business relationship with any company whose stock is mentioned in this article.
CommentsWrite a Reply or Comment:
You must be logged in to post a comment.