Apple: The Tough Race To $1 Trillion – Seeking Alpha
Shares of Apple (NASDAQ:AAPL) have gotten a lot of attention recently after hitting a new all-time high, as seen in the chart below. Now trading above $135, the technology giant eclipsed the $134.54 previous intra-day high that was set in April 2015. With shares reaching a new high, the question of Apple being the first US name to a trillion-dollar market cap has again surfaced. Unfortunately, the math is getting tougher by the quarter, something many may not realize.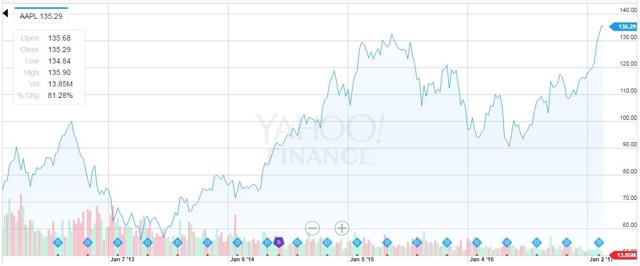 (Source: Yahoo! Finance)
While by stock price, investors may have never paid more for Apple shares, the company has still not reached its market cap peak. Back in 2015, Apple's share count was basically half a billion shares more, almost 10% higher. We all know this is due to Apple's tremendous buyback, which has reduced the outstanding share count as seen below (some numbers adjusted for stock split).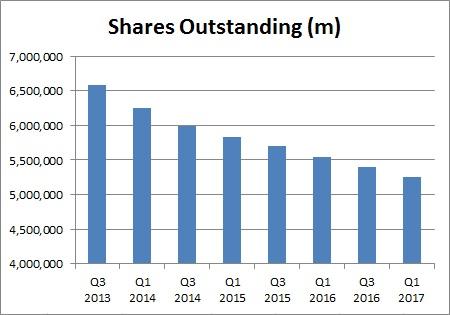 (Source: Apple 10-Q filings)
In the past year, ending with the December 2016 period, Apple reduced its outstanding share count by a little more than 5.2%. In the past three and a half years, the decline has been more than 20%. You won't find many companies that have rewarded shareholders like that, especially if you talk in pure dollar terms. But with Apple taking down its share count, the share price needs to rise by a similar amount to keep the market cap high.
Currently, Apple shares are valued at just under $710 billion, obviously making it the most valuable US company. However, if we go back to that April 2015 high, the market cap was over $775 billion thanks to the share count. Even on an enterprise value, Apple is still not worth as much, because the company's net cash position has only increased by about $19 billion from the end of Q2 2015 to the end of Q1 2017. Thus, Apple is worth about $45 billion less on an enterprise value than it was at its previous peak.
Obviously, this situation could change in a major way in the coming weeks and months, as investors are looking at President Trump for a big announcement on taxes. There is the expectation that corporate taxes will decline and there is also hope of a tax repatriation holiday. That would allow Apple to bring home the more than $230 billion of funds it has stored outside the US. Most of that would go into capital returns, but Apple would also use it for future capital expenditures and probably some acquisitions.
But as the share count comes down by the quarter, Apple's share price needs to keep going higher to maintain the same market cap. The chart below illustrates this effect, and it might shock some who are thinking Apple will reach a $1 trillion market cap anytime soon. With the outstanding share count where it was at the end of the most recent quarter, Apple needs to be over $190 a share to have a market cap of $1 trillion, or about $33 less than that for an enterprise value at that level. That's still more than 16% higher than where we are now.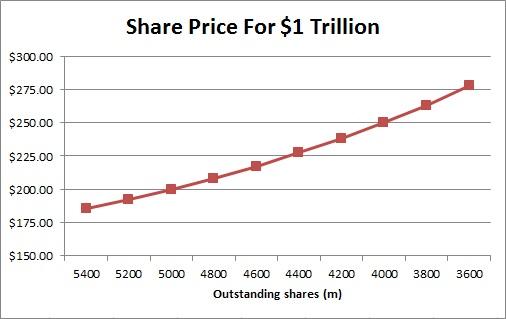 Now it's hard to predict exactly where Apple's net cash position will be a year or two for now, given so many unknowns like the iPhone 8, taxes, etc. But if we assume Apple's share count continues to come down at the pace it has over the last year or two, Apple shares would need to be trading at well over $200 a share to hit a $1 trillion market cap.
The math is certainly getting tougher, as opposed to a name like Amazon (NASDAQ:AMZN) whose rising share count and rising stock price makes the scenario much easier. I still am a fan of Apple and its future, I just think those who are looking for a $1 trillion market cap sometime soon may want to calm down a bit.
Disclosure: I/we have no positions in any stocks mentioned, and no plans to initiate any positions within the next 72 hours.
I wrote this article myself, and it expresses my own opinions. I am not receiving compensation for it (other than from Seeking Alpha). I have no business relationship with any company whose stock is mentioned in this article.
Additional disclosure: Investors are always reminded that before making any investment, you should do your own proper due diligence on any name directly or indirectly mentioned in this article. Investors should also consider seeking advice from a broker or financial adviser before making any investment decisions. Any material in this article should be considered general information, and not relied on as a formal investment recommendation.
CommentsWrite a Reply or Comment:
You must be logged in to post a comment.