Apple: A Growing Presence In The Enterprise – Seeking Alpha
Rethink Technology business briefs for March 7, 2017.
Apple Grows in the Enterprise, but Shrinks in Education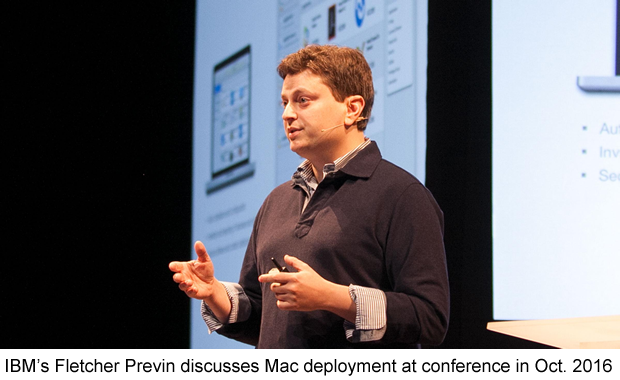 Source: Jamf
According to a survey recently published by Jamf, a maker of Apple (NASDAQ:AAPL) device management software, Apple is growing strongly in the enterprise. The survey was conducted in January 2017 by Dimensional Research and polled 300 IT professionals and managers from commercial organization of 50-10,000+ employees from "around the world."
One might well wonder how representative this sampling actually was, especially if it was composed mainly of Jamf customers. The survey report doesn't say, so I suspect that readers should take the results with a grain of salt. The survey concludes with a marketing pitch for Jamf device management tools, which are Apple oriented. So the conclusions could be construed a more than a little self-serving.
Nevertheless, those of us who weathered the dark days (for Apple) of the early 1990s have a little something to cheer about. That was when Apple was being unceremoniously ejected from the corporate world at the behest of IT managers who wanted to standardize on the new technologies of Windows NT and Ethernet.
Now, according to jamf:
Standardization on a single device brand is a thing of the past. Apple is gaining ground in the enterprise because employees prefer devices they use in their personal lives. In fact, the ability to work on a device(s) that an employee chooses and feels comfortable with largely impacts their productivity and job satisfaction. IT admins are adapting, finding that deployment, device configuration, security and support are easier with Apple than other operating systems.
The report goes on to state a key conclusion:
Apple continues to gain traction in the enterprise. An amazing 91 percent of enterprise organizations use Mac, while 99 percent said they use iPhone or iPad.
Amazing, indeed. Of course, use of a device in an organization doesn't necessarily mean widespread use. The report doesn't address the relative percentage of Macs or iPhones in use compared to other devices. Still, the survey found that Mac and iPhone adoption is increasing in about 75% of enterprises.
A more sobering result is shown below: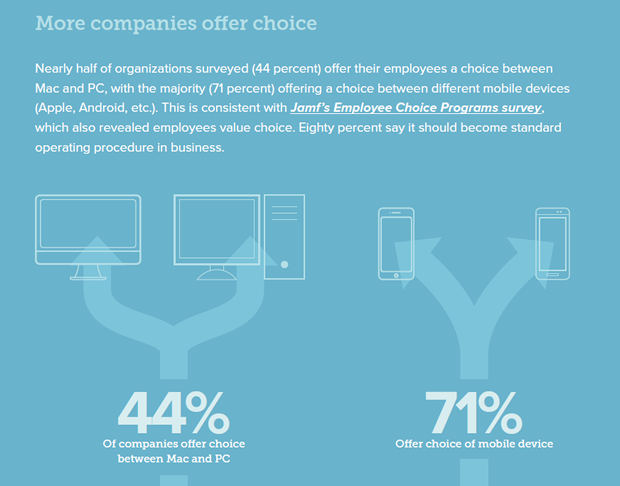 Yes, more companies are offering their employees a choice of personal computing platform, but not enough.
The survey also found that Macs and iPhones were easier to administer. That's really good news, since the original rationale for getting rid of Apple computers in the 1990s was the complaint that Apple computers were more difficult to administer. In deployment, security, configuration and support, Apple devices were generally preferred.
Generally, iOS devices got much higher marks across the board than Macs for ease of administration. Typically, 90% or better of respondents rated iOS devices easier to administer, while that number fell to the low 60s for Mac compared to Windows. That points to an area where Apple could make some improvement.
The report also pointed to IBM's (NYSE:IBM) experience with deploying Macs. With 90,000 Macs in use by employees, IBM found that it was saving $273-543 per Mac in support costs compared to Windows.
While Apple seems to be gaining ground in the enterprise, it appears to be losing ground in education. According to a survey by Futuresource Consulting, Apple fell to third place in mobile device shipments for K-12 education in 2016, behind Android and Windows.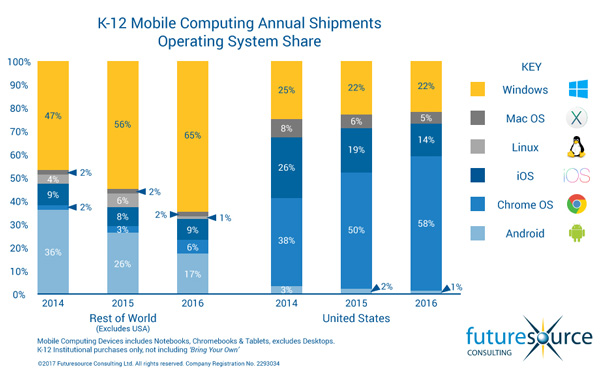 Of course, it's well known that Chromebook devices are typically far less expensive than the least expensive iPads. According to Futuresource, K-12 education shipments grew 18% y/y to 12.6 million units. And what is the next "must have" device, according to the Futuresource report? 2-in-1 convertible tablets such as the Microsoft Surface Pro or the iPad Pro.
Alphabet's (NASDAQ:GOOG) (NASDAQ:GOOGL) stuffing of cheap Chromebooks into the education market is in many ways a real disservice to the students. Children are being introduced to a computing platform that will almost certainly be irrelevant to them once they leave grade school. Apple needs to try a little harder in education. Think of the children.
Rethink Technology rates Apple a buy.
Does the Nintendo Switch Have a Future?
The Nintendo Switch had a strong opening weekend, according to Nintendo. Nintendo of America President Reggie Fils-Aime claimed that the Switch had the best initial two-day sales of any Nintendo console in North America.
Ars Technica reports that Switch opened in Japan with sales only a little less than the original Wii at launch, but cautioned that opening weekend sales are not a guarantee of future success. Some have questioned the long-term prospects of Switch, based on its internal hardware, which is by no means state of the art.
One of the best articles I've read is by Arjun Krishna Lal of gamingbolt. Based on the current consensus that the Switch uses a custom variant of the Nvidia (NASDAQ:NVDA) Tegra X1, he points out the severe performance limitations of the Switch:
The handheld component draws a line as far as the Switch's visuals are concerned: whatever runs on the Switch while docked, must run at 720p, when undocked. This makes it hard to see how AAA games will make their way over to the Switch…

Nintendo somehow got around to the idea of selling what's essentially a crippled version of Nvidia's $99 microconsole, for $300. Mobile chipsets like the Tegra X1 aren't remotely expensive, coming in at substantially less than $100.
Even offering the added portability of a self-contained screen, the Switch's value proposition is certainly suspect, and Lal's last observation is right to the point. What possessed Nintendo to opt for the X1, if indeed it did. Nvidia's Parker, often referred to as Tegra X2, would seem much more suitable. Not only is Parker a much more suitable SOC for mobile applications, being fabricated on TSMC's (NYSE:TSM) 16 nm FinFET, but it contains the more powerful Pascal generation on-board GPU.
Parker has been in production since the middle of last year as it's a component of the Drive PX 2 system that Nvidia sells to Tesla (NASDAQ:TSLA). I'm sure that Nvidia would have preferred to sell Parker SOCs at a somewhat higher price and greatly improved performance.
What was Nintendo thinking? Let me suggest an answer. By switching to ARM v8 architecture processors, Nintendo has given itself a relatively easy upgrade path that will be minimally disruptive to developers. Even though there are undoubtedly specialized APIs to access GPU functions, these also would mostly carry over from one Tegra generation to the next.
Nintendo is taking advantage of high initial sales of Switch to maximize profit by selling the cheapest conceivable version. But it probably won't be the last. Nintendo could go to a much more rapid (maybe annual) upgrade cadence than the approximately three-year cadence of the major consoles. Instead of watching demand for the console diminish over a period of years, Nintendo could stoke the fires of demand every year.
It's just a thought. In the meantime, the estimates are for Nintendo to ship 2 million Switch units by the end of Q1. That looks like a nice revenue bump for Nvidia of approximately $100 million.
Rethink Technology rates Nvidia a buy.
Sharp Increases Investment in OLED
Apple supplier Foxconn (Hon Hai Precision Industries) bought a majority stake in troubled display maker Sharp (OTCPK:SHCAF) last year and has since been moving to integrate Sharp into its massive Apple supply chain.
In order to increase Sharp's value to Apple, Sharp needed to position itself for OLED, a display technology that Apple is thought to have adopted for the next "iPhone 8." One advantage of OLED is that it can be fabricated on flexible (plastic) substrates.
Researchers are currently trying to find ways to bend, fold, or roll up OLED displays into more compact form factors. This is yet another way to squeeze a larger display screen into a mobile device. An Apple patent recently came to light in which is described a flexible scroll-like OLED screen: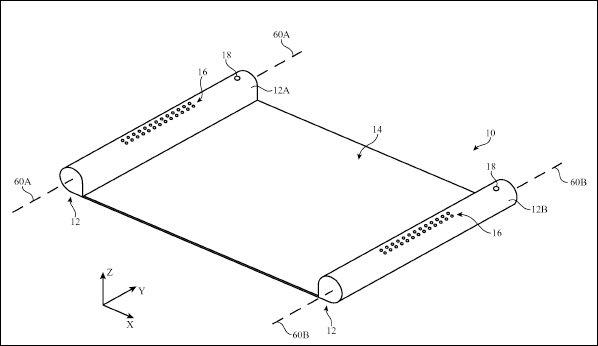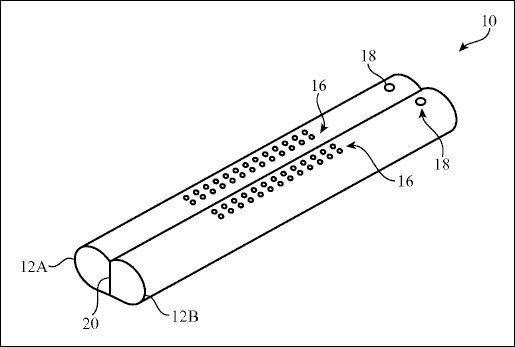 Source: The Stack
According to the WSJ, Sharp has now committed to spend $878 million on expanded OLED screen production. This production capacity will probably not be available for the next iPhone 8, but may find its way into Apple products in 2018.
CommentsWrite a Reply or Comment:
You must be logged in to post a comment.