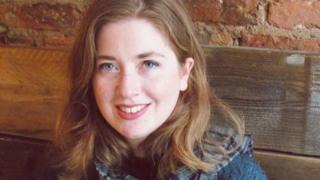 A 29-year-old writer who works part-time at a bookshop in York has been shortlisted for the Man Booker Prize for her debut novel.
Fiona Mozley, the second-youngest author to be up for the prestigious literary prize, wrote Elmet while commuting between London and York.
Emily Fridlund, another debut novelist, is also up for the the £50,000 award.
So are fellow Americans Paul Auster and George Saunders, Britain's Ali Smith and Pakistan-born Mohsin Hamid.
The winning book will be announced on 17 October.
2017 Man Booker Prize shortlist
Paul Auster, 4 3 2 1 (Faber & Faber)
Emily Fridlund, History of Wolves (Weidenfeld & Nicolson)
Mohsin Hamid, Exit West (Hamish Hamilton)
Fiona Mozley, Elmet (JM Originals)
George Saunders, Lincoln in the Bardo (Bloomsbury)
Ali Smith, Autumn (Hamish Hamilton)
Mozley's novel is told from the point of view of Daniel, a boy remembering his life in a house his father built with his bare hands in an isolated wood.
The author told Woman's Hour the issue of home ownership was on her mind while writing her novel, which takes its title from the old name for the West Riding in Yorkshire.
Veteran writer Paul Auster has been shortlisted at the age of 70 for 4 3 2 1, his first novel in seven years.
The book, which runs to 866 pages, tells of a young man's experiences growing up in New Jersey in the 1950s and 60s.
Smith, who has been shortlisted for the Booker three times, makes the cut again with Autumn, the first in a quartet of books named after the seasons.
Hamid, shortlisted in 2007 in The Reluctant Fundamentalist, is once more in contention thanks to Exit West, which tells of two refugees living in an unnamed country.
Analysis by Rebecca Jones, BBC arts correspondent
This is a really interesting shortlist – a good mix of established literary names and newer voices.
At the top of the tree is Paul Auster, the oldest and most high-profile author. 4 3 2 1 took him three-and-a-half years to write, working six-and-a-half days a week.
Do not be put off by its 866 pages. It is a richly rewarding and entertaining novel, though probably easier to follow in physical book form than on an E-reader.
He is joined by his compatriots George Saunders and Emily Fridlund. Those who feared American dominance of the prize may raise eyebrows that half the authors on this year's list are from the United States. No room, yet again, for Indian, African or Australian writers.
It is a huge achievement for Fiona Mozley to be shortlisted for her debut novel. It is a coup too for her editor Becky Walsh. It was the first book she acquired when she joined the small imprint JM Originals.
Four-times nominated Ali Smith is catching up with the perpetual Booker bridesmaid Beryl Bainbridge, who was shortlisted five times without winning.
Her novel Autumn is a timely book – a response, in part, to Brexit – while Mohsin Hamid's Exit West is also topical, imagining a world where mass migration is the norm.
US writer Saunders, best known for his short stories and novellas, is shortlisted for Lincoln in the Bardo, his first full-length novel.
Set over the course of a single evening, the book imagines US president Abraham Lincoln grieving over the loss of his son William.
The shortlist is completed by History of Wolves, in which US writer Fridlund tells of a 14-year-old girl living on a commune in the US Midwest.
The prize has been open to American writers since 2014 and was awarded to its first American winner, Paul Beatty, last year.
The shortlist was whittled down from a longlist of 15 novels that was announced in July.
Sebastian Barry, Arundhati Roy and Zadie Smith are among the big-name writers whose works were on the longlist but have not made the shortlist.
Follow us on Facebook, on Twitter @BBCNewsEnts, or on Instagram at bbcnewsents. If you have a story suggestion email entertainment.news@bbc.co.uk.